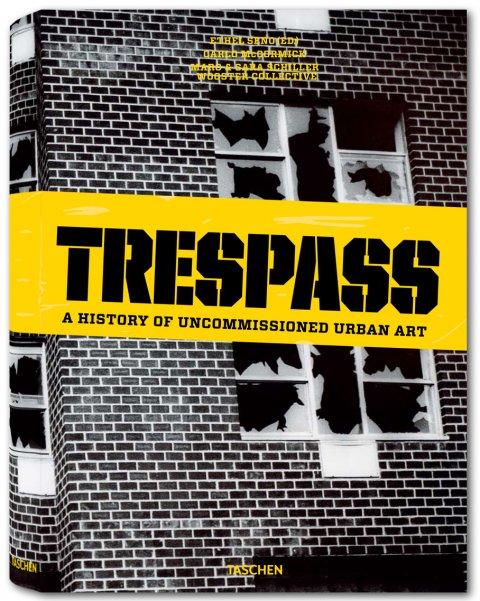 The Billboard Liberation Front is hosting a book event for the Tashen imprint Trespass: A History of Uncommissioned Art at City Lights
Hosts:
City Lights Books, Peter Maravelis and Jack Napier
Featuring:
Taschen editor Ethel SenoPresentation by BLF CIO ______ Blank Decoverly
Short video featuring author Carlo McCormick and Wooster Collective.
Various artists featured in the book will be in attendance – get em all to sign your copy of the book.
Our little event should be a bit different from the signings at the Taschen company stores. BLF Chief Scientist Milton Rand Kalman, retired webmaster Conrad Hoc and I attended the NYC book party and it was more like a movie premier – lotsa schmoozing criminal artists well on their way from the alleys to the galleries hanging with hundreds of downtown art types, hoodie wearing suburban wanna be thugs and scantily clad party goers. We drank for free, filched as many copies of the book as we could and generally had a ball. I'm sure the LA and European premiers were similar.
We hope our shindig will be a bit different. We're going to have an actual program (of sorts). Editor Ethel Seno will talk a bit about the book and (with luck) briefly interview any and all artists represented in the book that show up.
So far. We hear that Everman from Atlanta, Jason Epink – Catalog of Creative Triumphs and local hero Tony Labat will be in attendance. Who knows who else might be lurking about. Keep an eye out for fake beards and the like.
In the grand tradition of appropriations the BLF will then blatantly promote our own agenda after hijacking someone else's. BLF CIO _______ DeCoverly will present in words and images: "A Brief History of Ocular Expropriation from Cro Magnon Man to Banksy" _________ or Blank as he is known to slower people, is one of the best copy writers and admen anywhere. Not to be missed!
See ya'll there. I'll be the one in black.
-Jack Napier, BLF CEO